Events
First Wednesday at the CAFe series + Other Talks
Upcoming Talks
November 30th: "The Alonzo Davis Papers"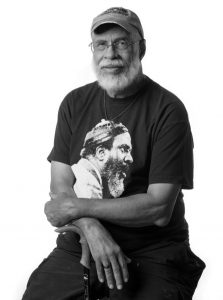 Alonzo Davis, Artist, gallery owner, professor, and activist
Location: Virtual via Zoom, Register Here!
Talk Start Date: November 30th, 6pm
Talk End Date: November 30th, 7pm
Reception Date: November 30th, 7pm
The Alonzo Davis Collection documents the career of artist, gallery owner, professor, and activist Alonzo Davis (b.1942). Join us to celebrate research and a virtual exhibition by students from the University of Maryland's I-School.
Presentations will be followed by a reception at 7:00pm.
December 6th: "Supporting Community-led Digitization of At-Risk Cultural Heritage in Iraq"
Helena Arose (Left) , Director of Programs at the Antiquities Coalition
Peter Herdrich (Right), Co-founder of the Antiquities Coalition
Location: Virtual via Zoom, Register Here!
Talk Start Date: December 6th, 4pm
Talk End Date: December 6th, 5pm
Abstract:
From first-hand experience of an active case-study of digitizing at-risk libraries and heritage collections with communities in Iraq, Helena and Peter will discuss opportunities, challenges and best practices for establishing community-led digitization projects, as well as lessons learned about the wider benefits of digitization and cultural heritage protection in Iraq.
Bio:

Helena Arose
Helena Arose serves as the Director of Programs at the Antiquities Coalition. In this role, she closely collaborates with representatives from the U.S. and international governments, law enforcement agencies, international partners, academics, and other key stakeholder groups to develop and implement programs to fight the illicit trade in ancient art and antiquities.
Helena plays a critical role in advancing the AC's mission by leading key research projects and publications, and also developing and managing popular online educational resources including interactive maps, timelines, and campaigns. She has organized and coordinated both in-person and virtual programs with world-renowned experts on topics pertaining to antiquities and cultural heritage. In addition, she helps edit and publish the Antiquities Coalition's award-winning Think Tank Policy Brief series.
Helena conducts in-depth research on antiquities looting and trafficking, cultural heritage diplomacy and protection, and financial crimes and the art market. In addition, she has authored several publications for the AC and academic outlets. She also serves as an expert on topics related to cultural racketeering, speaking widely on these issues for academic, government, and general audiences.
Prior to this role, Helena served as Research Associate and Project Director at the AC. Before joining the organization, Helena worked as a Collections Specialist for the City of Raleigh Historic Resources and Museum Program, where she gained experience working in museums and collections.
Helena graduated from the University of Glasgow in 2018 with a MSc in Art History: Collecting and Provenance in an International Context. An archaeologist by training, she holds a BA in Archaeology from Johns Hopkins University, and has participated in archaeological excavations in Athienou, Cyprus, and in North Carolina.
Peter Herdrich
Peter Herdrich is the Co-founder of the Antiquities Coalition (AC), where he directs strategic digital cultural heritage projects. He currently works with religious minority communities in Iraq on digitization of tangible and intangible cultural heritage, digital infrastructure, and education. His partners include his project Co-director Helena Arose of the Antiquities Coalition, Britney Bibeault, the AC's first Digital Cultural Heritage Fellow and University of Maryland College of Information PhD student, and the University of Maryland College of Information Assistant Professor Victoria Van Hyning. Their work is funded by the Unites States Agency for International Development.
Herdrich also directs projects with the Algerian Ministry of Culture and Arts. These include an on-going three-year project with the AC, the Egyptian Heritage Rescue Foundation, and the Council on Library and Information Resources (CLIR) on digital infrastructure and anti-looting efforts. Also, with the CLIR team, he built the first functional digital library in Iraq at the Kurdish Heritage Institute in Sulaymaniyah, conducted an emergency digitization and documentation project at the National Museum in Aden, Yemen, and initiated the Digital Library of the Middle East project with Dr. Charles Henry. He sincerely thanks all the generous funders, supporters, and partners who have made this work possible.
As the Chief Executive Officer of the Cultural Capital Group, he consults with clients across the cultural heritage, communications, and library sectors. He formerly served as CEO of the Archaeological Institute of America and publisher of Archeology magazine and is a graduate of Columbia University.
Past Talks
November 16th: "Exploring Zines: Perspectives in Zine Creating, Collecting, and Education"
Loren Mixion (Left): Academic Engagement and Outreach Librarian at Coastal Carolina University
Lisa Warwick (Left-Middle): Manager of The People's Archive at DC Public Library
Sharaya Olmeda (Right-Middle): Reference librarian and zine maker at Allan Hancock College in Santa Maria, California
Britt Starr (Right): PhD graduate from the University of Maryland
Abstract:

Zines, fanzines, and minicomics are fun and fascinating objects that come in many forms and express diverse ideas to a bigger audience. They can communicate everything from a love for a band to advocating for radical political and social change. Zines are a diverse form of artistic expression, passion, fandom, education, and resistance. Today, you can purchase zines in local bookstores and record shops, find them online, or find them in public spaces. They are also objects that are fascinating for librarians and archivists to collect, preserve, and digitize.
In this panel discussion, we will be hearing from four cultural heritage practitioners, educators, and creators on the opportunities and difficulties of working with zines. Our panelists will share insights into their work with zines and their thoughts on zines as objects of artistic and cultural heritage importance. The panel event will include a live demonstration of creating a simple zine (bring some paper and your favorite pair of scissors!), a moderated panel discussion, and a Q&A session with our panelists.
Bio:
Loren Mixon
Loren Mixon is the Academic Engagement and Outreach Librarian at Coastal Carolina University. Prior to joining librarianship, they were a high school educator. Throughout their career, their focus has been on connection with others and relationship and community building. Their research interest are feminist pedagogy, librarian labor, and critical librarianship.
Lisa Warwick
Lisa Warwick is the Manager of The People's Archive at DC Public Library. Lisa worked in academic and specialty research libraries, including the University of Maryland and Dumbarton Oaks Research Library, before coming to the DC Public Library in 2013. Managing The People's Archive combines her love of old paper smell with serving the public. Lisa's professional passion is making information easily accessible to users.
She holds her M.A. in Information Science from the University of Maryland and a B.A. in Film Studies from the University of Pittsburgh. Outside of work, she enjoys cooking, biking, and reading at home with her cat, Bruce.
Sharaya Olmeda
Sharaya Olmeda is a reference librarian and zine maker at Allan Hancock College in Santa Maria, California. She graduated Summa Cum Laude with her Master in Library Information Science degree from San Jose State University. Sharaya began her career in librarianship at the California Men's Colony State Prison, where she worked as a Senior Librarian until 2023. In 2021, as a means to improve access and services in carceral libraries, Sharaya joined the ALA Standards for Library Services for the Incarcerated or Detained Work Group where she chaired the Drafting committee and served as a Project Manager; responsible for leading a complete revision of the Standards, which will be published in 2024. Sharaya teaches Prison Library Services at Cuesta College and is currently a Counselor at Large, Planning and Budget committee member, and LGBTQ Taskforce member with the American Library Association where she was elected to serve until 2025. She has created and led zine workshops about mental health and is passionate about making space for underrepresented voices and experiences.
Britt Starr
Dr. Britt Starr (she/her) is a recent graduate from the University of Maryland with a PhD in rhetoric and graduate certificates in women's, gender, and sexuality studies and digital studies. During her doctorate, Britt helped build the English department's BookLab, a makerspace, letterpress printing studio, library, and center for the book arts. As a graduate assistant with BookLab, Britt founded "ZineClub" to share the personally and politically transformative medium of zines in monthly, informal gatherings open to the UMD community and beyond. Britt has regularly incorporated zines and zine-making in her pedagogy and is currently teaching rhetoric and composition at Baltimore City Community College.
November 1st: "Subject Analysis: Centering Historical Lives in Contemporary Archives"
Dorothy Berry, Inaugural Digital Curator,  The National Museum of African American History and Culture.
Abstract:
At the surface level, at the very least, the archival profession has moved towards an increased focus on marginalized and otherwise ignored voices within special collections. The excitement around this move has often focused on amorphous "community" engagement and "reparative description," but with far less clarity on who compromises relevant communities and who created the initial description in need of repair.
This talk will explore ideas around centering the voices and experiences of the archival subjects in historical collections, particularly those marginalized subjects who have no contemporary community. There are a variety of instances in the profession where there are multiple right answers, and this talk makes no claim on absolutism. Through a combination of historical research and working experience, this talk will open discussion on how and who archives serve.
Bio:
Dorothy Berry is the inaugural Digital Curator for the National Museum of African American History and Culture. A Library Journal "Mover and Shaker" and winner of the Mark A. Greene "Emerging Leader" award from the Society of American Archivists, Berry has established a reputation as a leading thinker around the discoverability of Black special collections. Berry's work has primarily approached the question of discoverability through the lens of archival description, digital collection development, and digital storytelling. Berry is an active member of the profession, serving on advisory boards for projects as wide-ranging as The Wheatley Census, designed to provide a bibliographic map of Phillis Wheatley-Peters first publication, and Archiving the Black Web, designed to put the power of digital preservation in the hands of Black creators. Beyond digital collections and projects developed at various institutions, her published work can be found in up//root, Lapham's Quarterly, JSTOR Daily, and The Public Domain Review, where she is a contributing editor.
September 20th : "10 Ways AI Will Change Archives"
Ben Brumfield (Left), Co-founder and Director of From The Page
Sara Brumfield (Right), Co-founder and Director of From The Page
Abstract:
AI is here, but how it will change archives and the work of archivists is still unclear.
The many ways AI will make your texts more accessible
How AI will be used for describing and recommending items
How that accessibility & detailed description will demand better and more nuanced search
New ways to interact with archival collections, from conversational search bots to easier analysis of historical data sets.
Your speakers are the creators of FromThePage, a crowdsourcing & collaboration platform for transcription and metadata enhancement. Enthusiastic technologists, they have been exploring and experimenting with AI for years, but even more over the last year.
Bio:
Sara Brumfield is a partner at FromThePage, where she builds software and helps state and national archives, research groups, public libraries, and universities run crowdsourcing projects. Prior to FromThePage, Sara spent 17 years as a software engineer with IBM. She led development and support teams focused on system and network management products, serving as a focal point for large enterprise customers. She holds eight technical patents. She has a BA in Computer Science and the Study of Women and Gender from Rice University.
Ben Brumfield founded the cultural heritage crowdsourcing platform FromThePage in 2005 and has been covering developments within crowdsourced manuscript transcription since 2007. Over the past decade, FromThePage has been used by libraries, archives, and museums to transcribe material ranging from Arabic scientific manuscripts to Aztec codices. Prior to FromThePage, he spent eleven years leading software development teams building fundraising and constituent engagement solutions for non-profit clients at Convio, Inc. He has presented on the intersection of technology, crowd-sourcing, and digital editions at the American Historical Association, Society of Southwestern Archivists, Digital Humanities, the American Library Association and SXSW. He has a BA in Computer Science and Linguistics from Rice University.
May 3, 2022: "Challenges and Opportunities of the Integration of DH into Kyrgyzstan's Higher Education Curriculum"
Abstract:
Dr. Karybekova will discuss the challenges and opportunities of integrating Digital Humanities (DH) into Kyrgyzstan's higher education linguistics curriculum. The Kyrgyz higher education curriculum is set by government officials in consultation with university representatives, making any changes to curriculum a long process and one that requires a lot of discussion and planning. This talk explores how interdisciplinarity might be successfully implemented in Kyrgyz linguistics departments by starting with pilot modules in existing courses, to gather information for an evidence-based discussion at the department and university levels in 2024-2025. The planned modules will draw on a combination of Dr Karybekova's experience as a Fulbright scholar at the University of Maryland's iSchool (2022-2023), her local knowledge, and that of her colleagues and students, their institutional realities at Manas University, and other cultural factors that impact curricular change. This talk will explore possible solutions to the problems related to the lack of infrastructure and experience of DH methods in Kyrgystan and Central Asia more broadly, and will suggest how changes to the curriculum would help Kyrgyz graduates keep pace with the changing world, support lifelong learning, integrate into the global market and prevent economic exclusion, radicalism, and labor migration.
March 1, 2023: CAFe Speaker Series: Curating Longitudinal Natural History Data Through the CHANGES Project

Abstract:
Dr. Andrea Thomer, Assistant Professor at the University of Arizona School of Information, will discuss natural history data curation: the specimens, field notes, and other data stored in natural history collections can be crucial for studies of past and on-going climate change—but only if they can be transformed into computationally-ready datasets. In this talk, she will describe the CHANGES (Collections, Heterogenous data And Next Generation Ecological Synthesis) project, in which they are developing approaches to curate rich but under-utilized longitudinal datasets that are often stored in the archives of natural history collections and surveys. Working with over 100 years of archival records from the Michigan Institute for Fisheries Research, they used the Zooniverse community science platform to ask friendly strangers from the internet to help transcribe over 100,000 data cards. Extensive data curation is needed both before and after records are entered in Zooniverse; while they have developed some workflows that will likely be generalizable to similar projects, considerable curation "by hand" is still needed. They find that digitization reveals the human idiosyncrasies that inevitably shape any artifact created by many people over many years.
February 14, 2023: Douglass Day Transcribe-a-Thon

Event Start Date: Tuesday, February 14, 2023 – 12:00 pm
Event End Date: Tuesday, February 14, 2023 – 3:00 pm
Location: In Person, University of Maryland College Park, Hornbake Library 0300 (Info Commons)
Celebrate Frederick Douglass's birthday and Black History Month by preserving a rich collection of African American history. The day will include a Transcribe-a-Thon featuring the papers of the activist Mary Ann Shadd Cary, a live stream of the Douglass Day program at Penn State, live music, and tours of the Driskell Center and UMD Special Collections. If you're a baker – bring your best birthday cake for a fun tasting and to share!
This event is free and open to the public.
Tour Descriptions:
Driskell Center tour: The David C. Driskell Center honors the legacy of David C. Driskell—Distinguished University Professor Emeritus of Art, Artist, Art Historian, Collector, Curator, and Philanthropist—by preserving the rich heritage of African American visual art and culture. The Driskell Center currently features the exhibit RINGGOLD | SAAR: Meeting on the Matrix which will be a highlight of the tour. Additionally, the tour will include access to archival stacks and featured materials if time permits.
SCUA tour: Housed in Hornbake Library, UMD's Special Collections and University Archives holds a rich array of materials related to Black History including the African American and African Pamphlet collection, the A. Lynn Bolles papers, among others. The current exhibit on display is Get Out the Vote highlighting materials related to suffrage and disenfranchisement in the United States. The tour will include access to archival stacks and featured materials if time permits.
February 1, 2023: CAFe Speaker Series: Accidental Evidence: The Amateur Film in the Government Archive
Audrey Amidon, Motion Picture Preservation Specialist, Moving Image and Sound Preservation Labs, National Archives and Records Administration
Heidi Holmstrom, Motion Picture Preservation Specialist, National Archives and Records Administration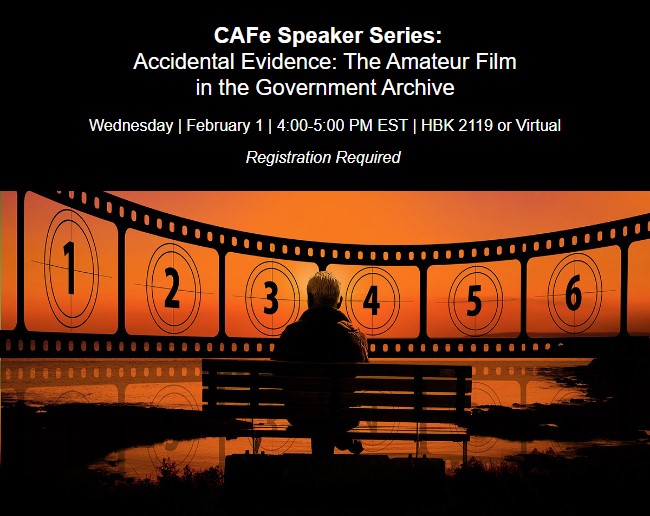 Abstract:
The Federal archive may be the last place one thinks to look for amateur film, but among the footage shot by government employees and contractors there are numerous films collected by government agencies because they document activities or events of importance to the United States. This "accidental evidence" includes films of UFO sightings, a presidential assassination, and the activities of American fascists. In this presentation, Audrey Amidon and Heidi Holmstrom from NARA will reflect on what makes a film a government record and how these amateur films came to be preserved at the National Archives