Events
First Wednesday at the CAFe series + Other Talks
Previous Talks
FALL 2022
September 23, 2022: SNACSchool @ UMD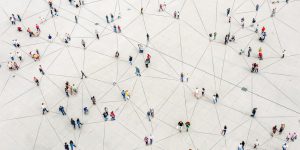 This is the official training program of the Social Networks and Archival Context (SNAC) platform. SNAC is a cooperative platform that aggregates archival finding aids, making collections searchable across institutions, and across the world.
NARA archivists and SNAC Liaisons Jerry Simmons and Dina Herbert lead an in-person half-day training in SNAC. We are very lucky to be partnering with SNAC to offer this training live for UMD students, staff, and faculty.
Attendees will get a refresher on some core concepts (a.k.a. authority control, metadata standards), learn how to edit a historical figure, and link them to archival resources across the world.
September 14, 2022: Virtual Panel Discussion: Digitizing Artifacts from the Black Lives Matter Memorial Fence
Aliza Leventhal (Library of Congress), Jodi Hoover (Enoch Pratt), Laura Farley (DC Public Library), Junious Whitaker IV (Howard University) and Karen Irwin (activist), and Nadine Seiler (activist)