Events
First Wednesday at the CAFe series + Other Talks
Upcoming Talks
Coming soon!
Past Talks
May 3, 2022: "Challenges and Opportunities of the Integration of DH into Kyrgyzstan's Higher Education Curriculum"
Abstract:
Dr. Karybekova will discuss the challenges and opportunities of integrating Digital Humanities (DH) into Kyrgyzstan's higher education linguistics curriculum. The Kyrgyz higher education curriculum is set by government officials in consultation with university representatives, making any changes to curriculum a long process and one that requires a lot of discussion and planning. This talk explores how interdisciplinarity might be successfully implemented in Kyrgyz linguistics departments by starting with pilot modules in existing courses, to gather information for an evidence-based discussion at the department and university levels in 2024-2025. The planned modules will draw on a combination of Dr Karybekova's experience as a Fulbright scholar at the University of Maryland's iSchool (2022-2023), her local knowledge, and that of her colleagues and students, their institutional realities at Manas University, and other cultural factors that impact curricular change. This talk will explore possible solutions to the problems related to the lack of infrastructure and experience of DH methods in Kyrgystan and Central Asia more broadly, and will suggest how changes to the curriculum would help Kyrgyz graduates keep pace with the changing world, support lifelong learning, integrate into the global market and prevent economic exclusion, radicalism, and labor migration.
Q&A about NARA job opportunities–closing May 1, 2023
March 1, 2023: CAFe Speaker Series: Curating Longitudinal Natural History Data Through the CHANGES Project

Abstract:
Dr. Andrea Thomer, Assistant Professor at the University of Arizona School of Information, will discuss natural history data curation: the specimens, field notes, and other data stored in natural history collections can be crucial for studies of past and on-going climate change—but only if they can be transformed into computationally-ready datasets. In this talk, she will describe the CHANGES (Collections, Heterogenous data And Next Generation Ecological Synthesis) project, in which they are developing approaches to curate rich but under-utilized longitudinal datasets that are often stored in the archives of natural history collections and surveys. Working with over 100 years of archival records from the Michigan Institute for Fisheries Research, they used the Zooniverse community science platform to ask friendly strangers from the internet to help transcribe over 100,000 data cards. Extensive data curation is needed both before and after records are entered in Zooniverse; while they have developed some workflows that will likely be generalizable to similar projects, considerable curation "by hand" is still needed. They find that digitization reveals the human idiosyncrasies that inevitably shape any artifact created by many people over many years.
February 14, 2023: Douglass Day Transcribe-a-Thon

Event Start Date: Tuesday, February 14, 2023 – 12:00 pm
Event End Date: Tuesday, February 14, 2023 – 3:00 pm
Location: In Person, University of Maryland College Park, Hornbake Library 0300 (Info Commons)
Celebrate Frederick Douglass's birthday and Black History Month by preserving a rich collection of African American history. The day will include a Transcribe-a-Thon featuring the papers of the activist Mary Ann Shadd Cary, a live stream of the Douglass Day program at Penn State, live music, and tours of the Driskell Center and UMD Special Collections. If you're a baker – bring your best birthday cake for a fun tasting and to share!
This event is free and open to the public.
Tour Descriptions:
Driskell Center tour: The David C. Driskell Center honors the legacy of David C. Driskell—Distinguished University Professor Emeritus of Art, Artist, Art Historian, Collector, Curator, and Philanthropist—by preserving the rich heritage of African American visual art and culture. The Driskell Center currently features the exhibit RINGGOLD | SAAR: Meeting on the Matrix which will be a highlight of the tour. Additionally, the tour will include access to archival stacks and featured materials if time permits.
SCUA tour: Housed in Hornbake Library, UMD's Special Collections and University Archives holds a rich array of materials related to Black History including the African American and African Pamphlet collection, the A. Lynn Bolles papers, among others. The current exhibit on display is Get Out the Vote highlighting materials related to suffrage and disenfranchisement in the United States. The tour will include access to archival stacks and featured materials if time permits.
February 1, 2023: CAFe Speaker Series: Accidental Evidence: The Amateur Film in the Government Archive
Audrey Amidon, Motion Picture Preservation Specialist, Moving Image and Sound Preservation Labs, National Archives and Records Administration
Heidi Holmstrom, Motion Picture Preservation Specialist, National Archives and Records Administration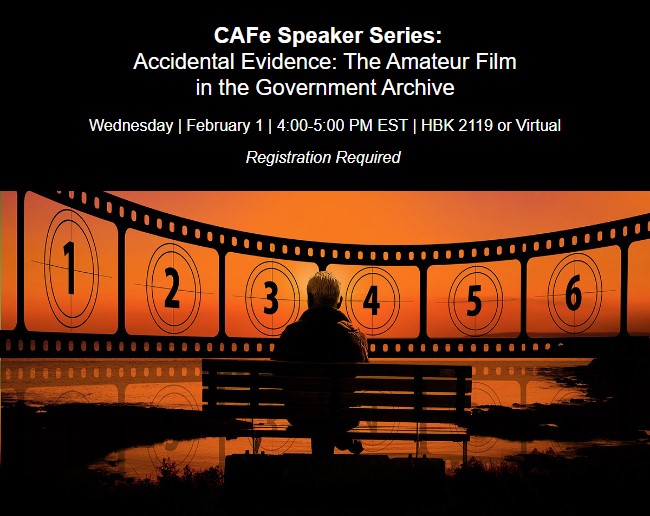 Abstract:
The Federal archive may be the last place one thinks to look for amateur film, but among the footage shot by government employees and contractors there are numerous films collected by government agencies because they document activities or events of importance to the United States. This "accidental evidence" includes films of UFO sightings, a presidential assassination, and the activities of American fascists. In this presentation, Audrey Amidon and Heidi Holmstrom from NARA will reflect on what makes a film a government record and how these amateur films came to be preserved at the National Archives